Domaine entier
Réunions de famille ? cousinades ? séminaires ? stages ? séjours à thèmes ? petits mariages petits budgets ?
To celebrate the Millennium we renovated another part of the old farmhouse and created this new 12/14 bed gitenamed after one of the rapids on the Ardeche river.
From a large outdoor terrace you enter a spacious vaulted room which serves both as a dining room and lounge. Adjoining the lounge is a large kitchen equipped with several fridges, a freezer, gas cooker and rings, micro wave oven, dishwasher, a washing machine and stainless steel work surfaces. On this floor, there is also a WC and hand basin.
Upstairs on two floors there are 4 bedrooms with en suite bathrooms. Two rooms have a double and single bed and two have a double and bunk bed. In the same building there is a game's room and a meeting room.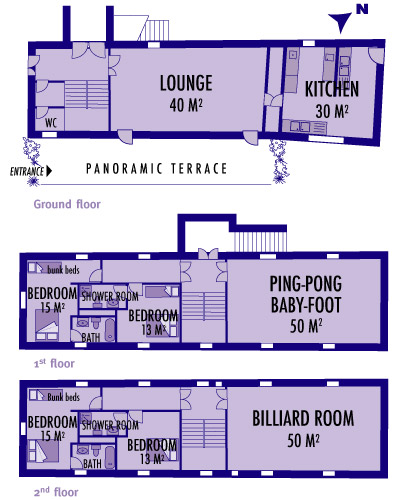 Vous pouvez privatiser le domaine pour votre groupe allant jusqu'à 45 personnes. Gestion libre ou en pension.
Exclusivité du domaine !
Plus d'infos sur l'onglet GROUPS